Semi-Intensive Driving Lessons In Hornchurch and surrounding areas.

Fully Qualified DVSA Local Driving Instructor
One 2 One Tuition - No Car Sharing

Since 2009, We have helped over 47,000 students pass there tests.
Intensive Driving Courses Hornchurch – Town Driving
Situated on the outskirts of East London, the drive from church driving test centre will involve a wide variety of road systems. Expect a deal with roundabouts ranging from small mini-roundabouts to large traffic light controlled roundabouts. Often, large multilane roundabouts will lead onto faster dual carriageways and 'A' roads such as the A124. These high-speed roads will usually take you into rural villages and small country lanes. These country lanes seem very pretty but can be extremely hazardous due to the high speeds and unpredictable bends.
Intensive Driving Courses Hornchurch – Fourty Minutes Drive
The drive from Hornchurch (London) driving test centre will last approximately 40 minutes. The test will start off with the driving examiner asking to read a number plate and a distance of 20 m. This will be followed by one "tell me question". Once on the road, driving will involve 20 minutes of independent driving which may involve either the use of a satnav or following road signs and road markings. The driving examiner will ask you to carry out one out of possible four reverse manoeuvers and possibly the emergency stop exercise.
More information on Hornchurch.
Address for Hornchurch Practical Driving Test Centre 
Hornchurch (London)DTC
75 Station Lane
Hornchurch
Romford
Greater London
RM12 6JX.
There is a level access to Hornchurch Driving Test Centre. However, there is no car park. Therefore, possible walk of up to a hundred yards. Please park legally in Station Lane or surrounding roads. There is also a public car park in Dorrington Gardens. Furthermore, no toilets are available. The test centre provides its services to cars and ADI.
Driving Test Centres Closest to Hornchurch DTC: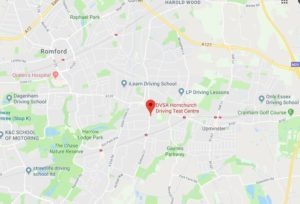 Erith (London) Practical Test Centre – Distance: 4.65 miles
Goodmayes (London) Practical Test Centre  – Distance: 4.79 miles
Brentwood (London)Practical Test Centre – Distance: 4.82 miles
Belvedere (London) Practical Test Centre – Distance: 6.24 miles
Barking, (London) Tanner Street Practical Test Centre – Distance: 6.26 miles
Barking, (London) Town Quay Practical Test Centre – Distance: 6.65 miles
Driving Test Hornchurch – Pass Rate
Hornchurch driving test centre has a pass rate which is in line with the average for most other driving test centres in the country. Its pass rate is averaged to be at 46%. This is taken from half a years of data collection, where 4250 driving tests were conducted during the months of April to September. Out of which, 1984 people were passed by examiners.
Each month the driving test centre conducts around 700 driving tests, from which around 330 people usually pass. You can increase your chances of passing by practising on busy city roads, as this is most likely where the examiner will take you.
Advanced Driving Course is designed to further improve driving skills of licensed drivers with already a lot of experience behind the wheel. So, for drivers learning from established driving schools, intensive driving courses Hornchurch is the inspiration, the destiny you dream about. Being more conscious about this and its benefits is really lifting your spirits for going further in ambitions of reaching your peak in driving career which has started today when you have entered the classroom with your best driving instructor.
Advanced driving is defined by Wikipedia as being the skill to control position and vehicle speed safely, systematically, and seamlessly using the roads and traffic conditions to achieve sensible progression without being disruptive, with skills and accountability. It requires a positive yet courteous attitude, and high standards of driving proficiency, which are based on focus, effective overall vision, anticipation, and planning, coordinated with good control skills. The car must always be at the right spot on the road at the right time, travelling at the correct speed, with the right gears engaged, and it must always be capable of stopping safely in the distance which is seen as being clear.
This definition of advanced driving from the above sources has been agreed by the Driving Instructors Association (DIA), Driver and Vehicle Standards Agency (DVSA) and Institute of Advanced Motorists (IAM) as well as Royal Society for the Prevention of Accidents (RoSPA). So, that in itself may give clearer picture and motivation for the drivers to think about taking advanced driving courses as by doing that, one may be able to be a tool of road safety, thereby helping our Government, and indeed, the entire community, in turning around increasing road deaths, the final goal of a course. It is not just to prevent car accidents or increase motorists road safety, advanced driving course has been proven to enhance driving enjoyment.
Most of those taking an advanced drivers training say that it makes them feel safer and confident, more aware, alert, and decisive when they drive. So, taking an advanced driving course certainly enhances their pleasure of the roads. A study conducted by Royal Society for the Prevention of Accidents (RoSPA) of United Kingdom (UK) shows that advanced drivers are 25% less likely to get into road accidents. Therefore, the organization has been involved in the promotion of advanced driving courses, aiming at increasing the interest in road safety among the public.
If you are thinking about starting driving lessons in Romford or Hornchurch, then you have come to the right place. Our driving instructors have been teaching driving lessons in Hornchurch for a good number of years and have a proven track record in getting students through to the Driving Test and making sure that they are a confident driver for life. Our approach is to teach you learner-centred style, which is the best way people learn. Our Driving Instructors know all of the testing routes at the Hornchurch Driving Test Centre that our Instructors will take you through on your driving lessons in Hornchurch.
This could be a further benefit for your learning because you will be more comfortable driving the roads that you may encounter at the driving test. The goal is to have you passing the driving test as quickly as possible, with the help of our approved driving instructors who are all DVSA approved.
In Hornchurch, we offer special reduced-rate introductory lessons to give you the chance to get a feel for the car and instructor. The driving instructor will have an extensive knowledge of the local area, so can get you started off in the appropriate area to suit your abilities.
We are proud to have an expertly trained staff to teach learners of all ages and abilities. We are very adept at helping nervous pupils, and we have a great understanding of the various training techniques that are used routinely within our driving lessons. Patience and understanding are always in front of our minds while we are teaching our students. We strive to make lessons interesting and to make sure learning is always taking place.
One driving school is Londons fastest growing driving school expanding across the country. We offer top-quality tuition with a team of highly-skilled, approved professionals. Their patience and reliability are the keys to our success. Whether you are a quick or a slower learner, One Driving School guarantees that we will meet your needs and give you 100% satisfaction. One driving school east London has already guided thousands of young drivers to qualification, with fantastic customer feedback.
One Driving School is the one you can trust, so get in touch today to book a lesson. The following areas are covered by One Driving School: Hornchurch, Elm Park, Tower Hamlets, Bow, Poplar, Limehouse, the Docklands, Canary Wharf, Bethnal Green, Forest Gate, Stratford, East Ham, West Ham, Manor Park, Ilford, Barking, Goodmayes, Seven Kings, Chadwell Heath, Dagenham, Rainham, Romford and surrounding Greater East London. One Driving School offers manual and automatic lessons, intensive driving courses, Pass Plus courses, refresher lessons, block bookings, evening & weekend driving lessons. One driving school offers 1 on 1 training and all our Driving Instructors are highly experienced and are on hand to assist you in passing the Driving Test.
When you have decided to take a crash course, you need to know what is the best one for you. If you are not sure what the best course is for you, you first have to find out where you are in your driving journey.
Below are descriptions labelled as Beginner, Intermediate and Expert. Beginner – If you have little or no driving experience, you might want to check out our Platinum/Gold Course. These courses are designed to help you learn all of your driving topics, going A-Z through your driving curriculum.
The courses may typically last for 2 weeks. You will have to be available for a large portion of your day, so that we can fit you into our schedule. We recommend booking in advance to ensure you get a better preferred date for testing.
Intermediate- If you took a few driving lessons or practiced some time ago, then you are nearly there and ready for the test. Intermediate courses will help bridge the gap from where you are now, to becoming a standard driver for a test.
Experienced – An experienced driver, such as yourself, usually needs our bronze courses. If you have had lots of practice, or even a little practice testing, then these courses are good for you. These courses are designed to review your driving and address any poor habits and areas of weakness before the test.
Towns you may come across during your Intensive Driving Course Hornchurch –
Romford
Romford is located in East London and is within the London Borough of Havering. It is 14.1 miles northeast of Charing Cross. It is a very large town and is one of the major metropolitan centres identified in the London Plan.
Dagenham 
Dagenham is situated within the London Borough of Barking and Danegnham. It is centred 11.5 miles east of Charing Cross.
Upminister 
Upminster is located within the London Borough of Havering and is 16.5 miles east-northeast of Charing Cross. It is one of the main district centres identified for development in the London Plan.
Rainham 
Rainham is within the London Borough of Havering and is situated 13.6 miles east of Charing Cross. It is surrounded by a residential area, which has grown from the historic village, to the north and a commercial area, fronting the River Thames to the south.
South Ockenden
South Ockendon is based within the Thurrock borough in Essex in the East of England. It is situated just outside the M25 motorway and is located on the border with Greater London. 
Great Warley
Great Warley is located to the far south west of the county and near to Greater London and is also close to the M25 motorway. It is a village which is based in the Warley ward of Brentwood borough in Essex, England.
Aveley
Aveley is 16 miles east of Charing Cross. It is on the very edge of Greater London and is roughly bounded to the north and west by the London Borough of Havering.
West Horndon 
West Horndon is situated to the south of the Borough of Brentwood, Essex. It is located 20 miles east north-east of Charing Cross.
Brentwood
Brentwood is within London's commuter belt and is situated 20 miles east-northeast of Charing Cross. It is located within the Borough of Brentwood in the county of Essex in the East of England. 
Purfleet 
Purfleet borders the A13 road to the north and the River Thames to the south. It is a town in Thurrock unitary authority, Essex.
Hire Car for Driving Test Hornchurch
DTC has the answer. We can provide you with an emergency driving instructor with a dual control car hire. With our "Driving Test Car Hire Hornchurch" service, you have a choice between an automatic or a manual car.
Intensive Driving Lessons Hornchurch
However, if you don't feel 100% ready, you have the option of taking our one-day intensive driving course. This short intensive course is designed for learners who have failed a practical test in the past or are almost at test standard. Find out more about our Intensive driving lessons Hornchurch.
When you book your last-minute intensive driving lessons, you will have the choice of learning in an automatic or a manual car. Last year there were over 1.7 million driving tests conducted. Out of these, only about 30% were taken in an automatic car.
Manual or Automatic Intensive Driving Lessons
It's easier to pass your driving test in a week by taking an automatic car compared to a manual. This is because you don't have the extra task of changing gears, especially on approach to junctions such as roundabouts. This, in turn, means that you will have more time to focus on the speed and observations on the approach to such junctions. Once you've passed your driving test in an automatic, you will be restricted to driving only automatics. However, you are most welcome to upgrade to a manual license by retaking and passing another test.
If you have no problem with the changing of gears, then it would be wise to take your last-minute intensive driving lesson and the official driving test in a manual car. Once you've passed in a manual car, you will in effect have 2 licenses. An automatic as well as a manual license.
Start at the Hornchurch DTC
Turn left
North St
Follow one way system ahead
Butts Green Road
Ahead roundabout 1 st left
Haynes Rd
Also end, turn right
Squirrels Heath Lane
Again end, left
Shepherds Hill
Take the third right
A127 (E)
Left M25 interchange 4 th exit
Curtis Rd
At the end, turn left
Woodhall Crescent
End of road, take a right
Wingletye Lane
Traffic lights right
Upminster Road
One way system 1 st left
Finally arrive at the Hornchurch DTC
testimonials
Outstanding service provided by DTC Quick Driving Tests. I used them twice as failed my first test. I managed to get another just a week later using this service and, most importantly, I PASSED. Would highly recommend DTC Quick Driving Tests to anyone! Thanks again.
DTC Last Minute Driving Tests give me an excellent service. I would definitely recommend them to anyone looking for a short notice test date.
l really like the services of DTC Fast Track Driving Services. It is ver reliable.
Previous
Next
About us
DTCUK is a trading mark of Driving Test UK Limited. We are a privately owned family company with Head Offices in Croydon, London. Founded by Shakti Gadday, helping learner drivers get on the road since 1987, registered with the DVSA under ADI number 120120. We've been booking driving tests for over 8 years and have helped over 35,000 learners pass their test quicker.
We can either automatic book you an earlier driving test or consult your instructor first, if needed. This will save you £100s in driving lessons.
Book Your Semi-Intensive Driving Course
Fill out the form or text us your details on 0779 988 6380
We will only contact you with reference to this booking
We will never share your information.
View Terms & conditions for Intensive Driving Courses in Hornchurch
Available Throughout Hornchurch & Surrounding Areas
Fully Qualified DVSA Local Driving Instructor
One 2 One Tuition - No Car Sharing