Get your driving licence month's earlier
Emergency Car Hire for Driving Test in London
Intensive courses throughout the UK
Mock driving tests in London
Since 1987, we have helped over 47,000 drivers get their licence
High Pass Rate
We have conducted over 4500 intensive courses and have a pass rate of 83%
Approved Instructors
All instructors are qualified by the DVSA and are familiar with the local test routes
UK Call Center
We offer great telephone support throughout the UK, at our London based office
Frequently Asked Questions
How we find Earlier Driving Test Cancellations
Firstly, it's important to understand that the DVSA does not hold any form of "Driving Test Cancellations List." The Gov.UK website will show the next available driving test date, which is usually months away.
However, a learner driver may cancel their test for various reasons. This could be due to illness, financial problem or simply because they feel they are not ready. When this happens, the slot is released back
onto the DVSA system. These driving test cancellations are available to the taking. 
We Search every 20 Seconds for a Short Notice Driving Test
DTC UK searches the DVSA system for earlier driving test dates every 20 seconds. That over 3000 times a day. So, as soon as a cancellation appears, our system will automatically grab it. If this particular date, meets your requirements, the cancellation driving test will be booked under your name.
We are confident that we can find you a Last Minute Driving Test. You must be willing to take your driving at 3 different test centres. However, if you prefer us to find your cancellation driving tests at only one test centre, it's not a problem. Although DTC UK cannot guarantee this, we have a success rate of over 90%.
Get a FREE Driving Test Cancellation - 1) Book at Gov.UK
If you can spare a few hours per day searching online for an earlier driving test date than it's possible to find your own cancellation driving test. The DVSA does not charge for this service. However, you will need to be extremely patient as on many occasions, the cancellation driving test date will only appear for a few seconds before it is grabbed by someone else. Firstly, you need to book your driving test as normal on the Government website, even if it's months away. You can also book a driving test at any practical test centre in the UK and later change the location as well as the date.
Change Driving Test Date - Free at Gov.UK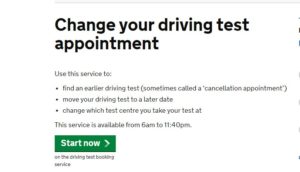 The next step is to log in to 
https://www.gov.uk/change-driving-test.
 Here you will need to enter your provisional driving license number and your booking application reference number for your currently booked test. If for some reason, your reference number is not available, you may use your theory certificate number instead.
Confirm your Short Notice Driving Test
Most of the time you will see driving test dates which are months away. However, occasionally, you may notice there is a cancellation driving test that meets your requirements. In the picture on the left, you can see that there is a short notice driving test available for the 22nd of November. Click the available date and press continue. You will have 15 minutes to complete the booking. If the short notice driving test is less than a week away, you may not be able to make changes once confirmed. DTC Driving Test Services would advise all learner to check that their instructor is available before confirming a short notice driving test. Some learner drivers get so excited that they have found a driving test cancellation that they forget to hit the confirm button. They arrive at the practical test centre to find there is no test for test.
Change Driving Test Center Location
Once you have entered your driving license and reference number you will have access to search for last minute driving test cancellations by clicking on the "Change" button on the top section named "Date and time of the test." You can also change the test centre location by clicking on the "change" button in the second column named "Test Center."
DTC Driving Test Services - Driving Test Cancellations
Bear in mind, that DTC UK checks for last minute driving test cancellations every 20 seconds, every hour of the day, seven days a week. So, if you one of these people who value their time, simply give us the task of finding you an earlier driving test date.
If you got your driving test cancellation through DTC, then there is no need to worry. We will simply change your test to an alternative date. No payment is required until you are 100% happy with the date and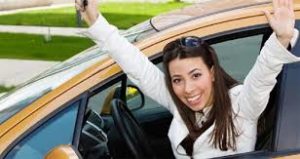 time of your test.
DTC UK Hire Car for Driving Test
If you have found your own earlier driving test date or used another test finder company, DTC Driving Test Car Hire can help. We usually only require 48 hours notice but we sometimes can provide same day car hire for your driving test. Our Driving Test Car Hire Service comes complete with a fully qualified driving instructor. 
Last Minute Driving Instructors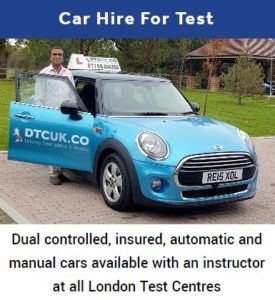 DTC Last Minute Driving Instructors have all been police checked to an enhanced level and are registered with the Driver and Vehicle Standards Agency (DVSA). As they specialize in emergency cancellation driving tests, they are familiar with the test routes used by the examiners. In the 2 hour coaching prior to the driving test, the instructor will cover tricky roundabouts,
bus lanes
and faded road marking on the test routes. Your driving instructor will also make time for the reverse manoeuvres and the "show me -tell me" questions. 
Additional driving lessons can be arranged if required.
DTC Dual Control Car Hire London
DTC UK Driving Test Cars are all insured and fitted with dual controls for your safety. They meet the strict requirements set by the DVSA. 
When you hire a car for your driving test, you will have the choice of an automatic or a manual car.
Fast Track Intensive Driving Courses
There are many advantages and a few disadvantages of doing an intensive driving course. The main advantage is that you get your driving test and driving lessons fast-tracked. DTC offers fast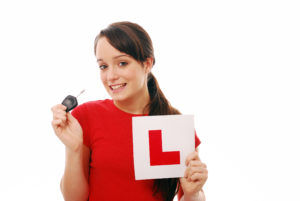 track semi-intensive driving courses which are suitable for learners who have failed a practical test in the past, international license holders and those who are almost up to driving test standard. The disadvantage of a DTC Fast Track Semi-Intensive driving course is that you are taught to pass your driving test. However, if you took weekly driving lessons, the focus would be to teach you to drive safely for life before focusing on the actual driving test.  Whether you decide to take an intensive driving course o weekly driving lessons, you will also need to decide whether to take them in an automatic car or a manual.
Automatic or Manual Driving Courses
The main advantage of learning to drive and passing in a manual car is that you get two driving license entitlements. Getting a manual driving license means that you can drive both automatic and manual cars. Manual cars are cheaper to buy than compared to automatic cars. Manual cars also consume less fuel. If you're a low-budget, it makes sense to purchase and manual vehicle.
However, learning to drive a manual car is much harder than learning an automatic. You have the added task to having to select the correct gears. Delicate coordination of the foot controls is required so that the vehicle does not stall.  Learning to drive an automatic, leaves you more time to focus on the mirror-signal-manoeuvre routine.
Up-Grade with DTC Driving Test Services
If you take your driving lessons and pass in an automatic car, you can upgrade to manual at any time. However, you will be required to retake your driving test in a manual car. DTC Driving Test Services will be able to assist you in getting an earlier driving test date for your upgrade.
Amazing service by the friendly team at DTC Driving Test Services. I had booked my driving test for August. Didn't want to wait so long as I'm ready for my driving test!!! I got in touch with DTC. Within a couple of days, they had already found me a driving test cancellation being just 1 week away. Safe to say I booked and Passed!! I would highly recommend DTC to anyone looking for cancellation driving tests. Thank You, DTC.
Recently moved to London from the United States where I had been driving in the States for over 8 years. Having passed my theory test, I wanted to fast track my driving test. I was shocked that many driving schools wanted to treat me like a beginner. These schools wanted me to take a course of at least 20 to 30 hours. DTC Driving Test Services were different. They understood my needs. DTC UK even promised to book me an earlier driving test cancellation within 2 weeks. They were confident that they would find me a cancellation driving test. Payment was not requested until I had accepted the booking. Having found me a driving test cancellation, they organized a one-day semi-intensive driving course. My instructor, Shak was very knowledgeable. He was friendly but at the same time professional. Shak gave me loads of tips which contributed to me passing my driving test. I would certainly recommend DTC UK to anyone wanting a driving test cancellation or an intensive driving course. Thank you to both Shak and DTC UK.
Was referred to DTC Driving Test Services by my driving instructor. This was after failing my practical test. I must admit I was a bit hesitant at first to use a company to find cancellation driving tests. However, I went with them as I did not have to pay any money upfront. Was really impressed by them. The staff was very friendly over the phone. They promised to try their best and find me a driving test cancellation. I was kept I inform at all times by text messages and emails. DTC UK offered a test just 10 days after my last test which was legally the earliest driving test I could do. I would highly recommend DTC UK to anyone want a fast track driving test. Great professional service.
I was looking for a Driving Test Cancellation as I needed my driving license to drop my son to school. Searched "earlier Driving Test" on Google and saw the DTC UK website. It looked good and had plenty of reviews from former clients. As they did not need any money until I accepted the earlier Driving Test booking, I thought I would give them a go. I am really happy that I did. They not only found me an earlier Driving Test date but also help me pass with the help of their Youtube channel and their resources page. If you are reading this page, I am guessing you are wanting an earlier Driving Test date. Would urge you to use DTC UK.
I had my driving license revoked by the court after I was caught speeding. The speed limit had changed from 60mph to 30mph but I failed to see the sign. There was nothing wrong with my driving, just made one stupid mistake. Nevertheless, most driving schools wanted me to take loads of driving lessons. A friend referred me to DTC driving test car hire. They booked me a last minute driving test that very same week. Took four lessons and got my license back. I would highly recommend this DTC UK driving school who anyone who wants a fast track driving test. Believe me, these guys know what they're doing.
Both my wife and I used DTC UK to help us get and prepare us for our short notice driving test. The service offered by the company is the best, and I talk from a lot of experience. My wife had been learning to drive for over one year. During this time, she had changed several driving schools and instructors. She finally stumbled across DTC driving test services. They did not waste time with unwanted driving lessons but just booked her a short notice driving test. She only had a week to prepare. Its the best way, it did not have time to get nervous. She passed with this short notice driving school. After my wife passed, I joined the DTC and requested a short notice driving test. Congratulations to the success of DTC UK on getting both of us through this tough test.
Previous
Next
About us
DTCUK is a trading mark of Driving Test UK Limited. We are a privately owned family company with Head Offices in Croydon, London. Founded by Shakti Gadday, helping learner drivers get on the road since 1987, registered with the DVSA under ADI number 120120. We've been booking driving tests for over 8 years and have helped over 35,000 learners pass their test quicker.
We can either automatic book you an earlier driving test or consult your instructor first, if needed. This will save you £100s in driving lessons.
Contact us to discuss your requirements
Fill out the form or text us your details on 0779 988 6380
We will only contact you with reference to this booking
We will never share your information.