Get your Driving Test within 2 Weeks Locally Throughtout the UK - Guaranteed.

We Search for Cancellations every 20 seconds
No upfront costs.

Since 2009, We have booked over 35,000 driving test cancellations.
Driving Test Within 2 Weeks
We guarantee to book your driving test within 2 weeks at a local centre or its
FREE
No Upfront Cost
Only pay when you are 100% happy with time and date of your driving test. No bank or credit card details required
Search Every 20 Seconds
We check for driving test cancellations nationwide, every 20 seconds. That's over 3000 searches per day.
No Form Filling
Simply text us your driving licence number and aplication number 24/7
UK Call Center
We offer great telephone support throughout the UK, at our London based office
Trusted By Driving Instructors
Our service is used and recommended by over 100 driving instructors and driving schools
Frequently Asked Questions
In order to use our " Earlier Driving Test Cancellation Checker," you must first have booked a test. This can be months away or even at a different driving test centre.
Book Driving Test at Gov.UK
Book your driving test at https://www.gov.uk/book-driving-test.  You will be provided with a Booking application reference number. However, if your theory certificate is about to expire, you may not be able to book a driving test. If this is the case, please call DTC UK. We will only be too happy to help you get an earlier driving test date.
Quick Driving Test – Provide us with your Details 
Once a test date has been booked, simply text, WhatsApp or email us your details. DTC UK will require your driving license number, application reference number, and the name of the centre where you would like your driving test cancellation. Alternatively, you may complete the simple form at the bottom of this page.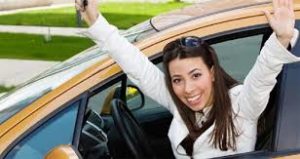 Our Cancellation Checker will start searching for cancellation driving tests for you. We book 90% of tests within 2 working days.
DTC UK will change your driving test to an earlier driving test date and text you details of the confirmed booking.
You then check that the new driving test date is suitable with your driving instructor – If not, our cancellation checker will search again.
To accept the earlier driving test date, simply text back with, "BOOK"
DTC UK will text you our bank details. Simply credit our bank account with £30 or alternatively, you can pay with any credit or debit card over the phone.
DTC Cancellation Driving Tests – Theory Certificate Expiring
You may not be able to book a test with Gov.UK for various reasons. One of the most common reason is that your theory certificate is about to expire. If this is the case, there is still hope of getting a fast track driving test.
Firstly, you can book your driving test at any other test centre in the UK and then look for a short notice driving test at your local test centre. Even if you are unable to book at any other centre, there is no need to worry. DTC UK can still book you a last minute driving test. However, you will need to pay upfront as we will have to pay the DVSA on your behalf.
Last Minute Driving Test Cancellation Checker – Automatic Full Driving Licence
Another popular reason for not seeing any driving test date at Gov.UK is that the candidate already has a full automatic drivers license and wants to upgrade to a manual license. The DVSA automatic booking system will not allow a booking and the candidate will need to call them on 0300-2001122.
After you have called the DVSA, they will be able to override the booking system after carrying out various checks. Once these checks have been completed, a driving test will be booked and a booking application reference number supplied. DTC Driving Test Service requires both the driving license number and the booking application reference number in order to our cancellation checker to search for Driving Test Cancellations.
Cancellation Driving Tests – Test on Hold
Sometimes, the DVSA takes payment for driving test booking but can not book a test as no appointments are available. This could be for various reason such as theory expiring. The candidates are told, if and a driving test cancellation becomes available, it will be booked for them.
Unfortunately, the possibility of this happening is extremely rare. DTC Driving Test Services cannot search for driving test cancellation for candidates who have their test on hold. There are 2 options. The first is to ask the DVSA to a test at another practical test centre and then search for an earlier driving test date at their local centre. The second is to cancel the hold and request a full refund.
DTC UK will then be able to search and book earlier driving test cancellations to suit. As long as your theory certificate has at least 2 weeks left, our cancellation checker can guarantee you a fast track driving test.
DTC Short Notice Driving Test – Special Needs
You have declared a disability, your driving test may be longer than a normal driving test. Although you may not require the extra time, the DVSA will always allocate the slot of two test appointments. Therefore if there is a short notice driving test appointment, say at 9.07am, the DVSA will not be able to book it for you.
This is because the examiner will have another booking just under an hour later. This would not be fair if the disabled driver needed the extra time. In order to find a short notice driving test for a learner with a special need, they will have to search for 2 cancellation driving tests one after another. Unfortunately, the DTC UK cancellation checker will not be able to assist you.
DTC Fast Track Driving Test – Extended Driving Test
Sometimes, a driver is ordered by a court to take an extended driving test rather than a normal test. This usually happens due to serious offences such as the speed at twice the speed limit. However, it can also happen because the drivers have accumulated so many penalty points in such a short period of time. An extended driving test is almost can last as long as 75 minutes. The learner would need to book and pay for 2 slots.
In order to search for the last minute driving test, in this case, the learner would have to find 2 short notice driving test slots. This must be one after the other. The DTC UK Cancellation Checker may be able to assist in finding driving test cancellations for convicted drivers. However, there would be extra costs involved.
DTC Quick Driving Test – License Blocked by DVSA
Sometimes the DVSA blocks certain provisional driving licenses. This is very rare but is carried out in the interest of national security. A simple phone will normally resolve the issue. The contact number for the DVSA is 0300-200-1122.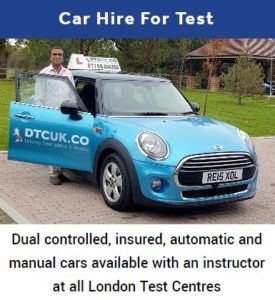 If your driving instructor is not available for the driving test cancellation which DTC UK has booked you for, simply reply back to our text asking us to search for an alternative date. However, if this is not practical, we can arrange a car hire for your driving test along with a fully qualified driving instructor. This service is available at all London driving test centres and many surrounding areas.
A learner driver may cancel their test for various reasons. This could be due to illness, financial problem or simply because they feel they are not ready. When this happens, the slot is released back onto the DVSA system.
DTC Last Minute Driving Test
We search the DVSA system for earlier driving test dates every 20 seconds. That over 3000 times a day. We are so confident that we can find you a Last Minute Driving Test within 2 weeks or it's free. You must be willing to take your driving at 3 different test centres.
However, if you prefer DTC UK to find you an earlier driving test date at only one test centre, it's not a problem. Although we cannot guarantee a Last Minute Driving Test within 2 weeks, we have a success rate of over 90%.
I had been taking the weekly driving lesson but also practising with my parents. When my instructor told me to book my test, I was happy. But then I realized that the waiting time at Isleworth was almost 3 months long. I approached DTC for a fast track driving test. I was really pleased with they offered me a perfect date for only a few weeks away. It allowed me a few lessons to perfect my skills before taking my fast track driving test. I passed at the Isleworth practical test center with ZERO minor faults. I would recommend DTC fast track driving test services to any learner in my situation.
I was desperate for a quick driving test as had been offered a great job which needed a driving license. Tried to book a test on gov.uk but the waiting time in West London was over 2 months away. I Googled "quick driving test" and found the dtc website. They guaranteed me a quick driving test in West London for the following week. With no upfront payment, I couldn't go wrong. To my pleasant surprise, dtc call me within the hour and offered me a super quick driving test for the very same week. DTC driving test services even arranged an instructor for my quick driving test booking. I have passed my test within days of making contact with dtc driving test services. My driving instructor, Shak was fantastic. He was extremely knowledgeable and patient. The last-minute driving test tips that he provided contributed to me passing my test. I would highly recommend dtc to anyone wanting quick driving test cancellations. Also, I would recommend Shak to anyone wanting driving lessons in West London.
I was upset after failing the first driving test. However, it was a real kick in the teeth to learn that the waiting time for a practical test at Uxbridge was almost 8 weeks away. I was hesitant about using a driving test cancellation company but am glad that I went to dtcuk.co as they found me a short notice driving test more or less immediately. However, I opted for a later date which I had found myself. This was not a problem for DTC. I will most continually use them again for a short notice driving test (If I'm unlucky to fail again). With no upfront payment and a promise to find you a short notice driving test within 2 weeks, I believe they are the best for cancellation driving tests.
I was using free cancellation checker for almost a month to help me find a fast track driving test but without luck. Luckily, I noticed the DTC UK website which guaranteed a fast track driving test within 2 weeks or it's free. Their cancellation checker checks every 20 seconds. It's just amazing. I have already recommended my little sister who is also looking for cancellation driving tests.
I was desperately looking for cancellation driving tests in London. Although I was prepared to take my test anywhere, I could make a booking as my theory only had a few weeks before expiring. Luckily, I came across the DTC website. Due to the DVSA 10 day working rule, I only had 3 dates at which I could take my test before the theory expired. DTC said they would try their very best. To my surprise, they offered me a short notice driving test the very same day. I had spent hours every day searching for cancellation driving tests but dtc found one without any problems. They really do offer driving test cancellations to all learner drivers, even like me.
Previous
Next
About us
DTCUK is a trading mark of Driving Test UK Limited. We are a privately owned family company with Head Offices in Croydon, London. Founded by Shakti Gadday, helping learner drivers get on the road since 1987, registered with the DVSA under ADI number 120120. We've been booking driving tests for over 8 years and have helped over 35,000 learners pass their test quicker.
We can either automatic book you an earlier driving test or consult your instructor first, if needed. This will save you £100s in driving lessons.
Book Your Earlier Driving Test Now
Fill out the form or text us your details on 0779 988 6380
Only pay £30 when you accept the booked date
We will only contact you with reference to this booking
We will never share your information.
View Terms & conditions for Driving Test Cancellations
Only pay £30 when you accept the booked date
Book your test within 2 Weeks Guaranteed